February Update and 2019 Governing Report – Irene Fernando, District 2 Commissioner
Greetings! We hope our newsletter serves as a resource for staying connected to Hennepin County activities and staying updated on county news and services.
As always, please reach out with questions, comments, or to learn more about how to get involved.
District 2's 2019 Governing Report
I'm excited to publish our 2019 Governing Report! As I reflect on my first year in office, I am proud of the work we have accomplished together. This report outlines ways my office delivered results, by fostering innovation and implementing imaginative solutions. See the full report at hennepinD2.com/report
News
2020 Census: Commit to be Counted
A big moment coming up this year is the 2020 Census on April 1.
This count of everyone living in the country happens just once every 10 years. Why should you care? A complete count of your neighborhood ensures it gets its fair share of federal funds for things like roads, schools, and more.
New for 2020: complete it online, as well as by phone or mail. hennepin.us/wecount
Early Voting for Presidential Nomination Primary
All eligible voters can vote absentee — either in-person or by mail — now through March 2. Minnesota's presidential nomination primary is on Tuesday, March 3.
View your sample ballot from the Secretary of State's website.
Vote early in person or by mail
View instructions for voting early.
Give Kids a Smile: Free Dental Care for Kids
Because every child's smile should be a picture of health, dentists and dental professionals throughout the state volunteer in select clinics to provide free dental care for underserved children (ages 0-17) during this annual event.
Where and when
NorthPoint Health & Wellness Center, 1313 Penn Avenue N, Minneapolis
Friday, February 7, 8am-3:30pm and Saturday, February 8, 8am-12pm
Schedule an appointment
Find other local participating clinics
Visit mndental.org or call United Way 2-1-1 or 1-800-543-7709
This event is hosted by NorthPoint Health & Wellness Center, ADA Foundation, and Minnesota Dental Foundation.
Hennepin County Public Health 2019 Annual Report
View a snapshot of the department's 2019 highlights, conveyed through stories, photos, videos, and related media coverage.
Report highlights include
Updates to Hennepin County ordinance 21 on tobacco sales
Response to Big Island and Hep A outbreaks
Opioid interventions, like medication assisted treatment
Notable stats, national recognition, 2019 funding
More information
Thank you for reading the report and for your strong and ongoing support of public health in Hennepin County!
School Recycling Grants
Apply now for a school recycling grant to improve school programs to reduce waste and keep recycling and organic materials out of the trash. Learn more at hennepin.us/schoolrecycling.
Fix-It Clinics
Get household items fixed for free and learn valuable repair skills at an upcoming Fix-It Clinic. Learn more at hennepin.us/fixitclinic.
Upcoming clinics
Saturday, February 8, 12-4pm, Brooklyn Park Community Activity Center
Saturday, March 14, 12-4pm, Burroughs Elementary School in Minneapolis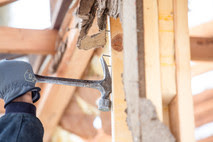 Big Opportunities to Reuse and Recycle Building Materials
About 85% of the materials in a typical demolition or remodeling project could be salvaged and kept out of landfills. But currently, only about 30% of building materials are actually reused or recycled.
Choosing deconstruction can help change that, and homeowners in certain cities may be eligible for grants to offset the higher costs of deconstruction.
Learn more
Become an Election Judge
Your city is hiring election judges to help people vote at the polling place. Learn all about elections while helping your community. Find out more at hennepin.us.
New Race Equity Advisory Council Seeks Members
Applications are now being accepted for Hennepin County's new Race Equity Advisory Council. The 16-member council will advise both the county board and county administration on their vision and strategy, which focuses on confronting and overcoming barriers that impact many residents, especially those of color. By partnering with residents who are experiencing disparities, as well as with community partners who are assisting individuals and families impacted by disparities, the ability to reduce racial disparities and advance racial equity throughout Hennepin County will be more successful.
Preference will be given to Hennepin County residents. Individuals with lived experience of racial disparities in the areas of education, employment, health, housing, income, justice and transportation are encouraged to apply.
The deadline to apply is February 19, 2020. For more information or to apply, visit hennepin.us/advisoryboards.
Updated: Ways to View Board Meetings
This information has been updated to reflect recent changes to board meeting coverage.
Live stream or watch board meeting videos on demand at hennepin.us.
Free Valentine's Day Weddings are Available
Registration is open for the eighth annual free Valentine's Day weddings event. Up to 12 District Court judges will perform free marriage ceremonies over the noon hour on Friday, February 14, at the Hennepin County Government Center. Registration details are available on the event flyer.
News From the Library
Art at your Library
The next time you are visiting your local library, look for the public art in the building. You can search online to learn more about the art at your library.
About District 2
Contact us
Irene Fernando
Commissioner, 2nd District
612-348-7882
Akhilesh Menawat
Communications and Policy Aide
612-348-5335
Bill Emory
Constituent Services and Policy Aide
612-348-3526