Steve Fletcher, 3rd Ward Council Member – May 15 Newsletter
612-673-22033

Steve.Fletcher@MinneapolisMN.gov
Ward 3 Friends –
I've heard a range of reactions from many of you about Governor Walz's announcement on Wednesday that he is letting the Stay Home order expire on May 18, and replacing it with a "Stay Safe" order that allows many businesses to resume operation. I want to share a little insight about what it means for Ward 3. As a regional destination for work and recreation, our fates and our health are tied to the rest of the region, so we need our statewide strategy to succeed. If Minnesotans do not proceed cautiously, we could bear the brunt of people's bad judgment and may have to show some agility and adjust to new conditions.
First, I want to acknowledge that many people are concerned that this announcement will be misconstrued. If you only read the headlines, the emphasis is on re-opening, but if you listen to the Governor's speech, he's clear that we need to keep up the efforts that have been working to keep the virus from spreading quickly through our community. While some businesses and activities will resume in a limited way that will be a relief to business owners and customers alike, we still owe it to ourselves and our neighbors to take steps to avoid infection. Masks are even more important as more people come into closer contact with each other, and we should still be minimizing contact in general.
I asked Mayor Frey in our Council meeting this morning about guidance for employers and workers to make sure newly reopened businesses are reopened in a safe way, and I was encouraged to hear that he is taking seriously our unique role as the work destination for the region, and considering new regulations to increase mask usage and other prevention measures to protect workers returning to their jobs. The Governor's order puts a lot of pressure on everyone to figure out what safe re-opening looks like very quickly, and we'll be working hard to support workers and employers in creating safe work spaces.
The order enables some businesses to re-open at a reduced capacity and sets a timeline for others like restaurants and bars. Make no mistake – many business owners are feeling a sense of relief at seeing a light at the end of the tunnel, but most will continue to struggle. There are very few businesses that can thrive at 50% capacity, and there will inevitably be less traffic and less business activity as we all continue to act in the interest of safety. The City is dedicating significant resources to helping businesses figure out strategies for safely reopening so that they can start generating some revenue, and for some business models, that will be beneficial. Small businesses and their workers will still need our support for a long time to come.
Starting Monday, the Governor is allowing gatherings of up to 10 people, which will be a huge relief to close friends and family who have been separated during isolation, but will also enable more infection-spreading events if people overuse this. As tempting as it will be to make abundant use of this new freedom after many weeks of isolation, it could be very dangerous if people use it irresponsibly, and bounce from small gathering to small gathering. We didn't come this far together, only to risk becoming super-spreaders of the virus by jumping too quickly into in-person socializing.
My heart is crying out to be with you in person again. This weekend should be Art-a-Whirl, which is one of the best weekends of the year, and this weekend would have been the nicest weather Art-a-Whirl has had in a while. It is tempting to hear what we want to hear, and go back to normal too quickly, but we're smarter than that, and we care for each other more than that. So, we'll do Art-a-Whirl virtually this year (starting at 5:00 PM tonight!), buy art online, share it with our friends online, and look forward to the day when our heads and our hearts are telling us to go fully back into the world again. We still have a long road ahead.
---
How We're Responding to People Experiencing Homelessness Camping Outdoors
I'm hearing from a lot of you from around the Ward about people experiencing homelessness camping outdoors, and as always, I appreciate the spirit of compassion evident in those conversations. I want to share as much accurate information as I can about how the City is responding, what solutions we are working on with our partners at Hennepin County, and how you can help.
First, this is certainly not unique to Ward 3 or to Minneapolis. We were facing an urgent shortage of deeply affordable, low-barrier housing before the pandemic, and COVID has put strains on all of our existing systems of shelter and support for people experiencing homelessness. We are tracking about 85 encampments around the city, including several small ones (3 tents or fewer) in Ward 3. For the most part, small groups are keeping to themselves and discouraging people from joining them to avoid drawing attention. West River Parkway near Plymouth, Nicollet Island, and the Commons are the most visible ones in Ward 3. There are larger, more concerning encampments in Whittier and Phillips to the south.
The Commons is newly under the Park Board's control, as are the other sites in Ward 3, but that does not prevent us from collaborating on outreach, public health, and policing. The City monitors camping activity, works to keep it as healthy and safe as we can, and we intervene if the activity begins to pose a more direct and explicit public health or safety threat.
We are actively working with Hennepin County on shelter and housing options that people can choose (but are not required) to take. The County has placed people from the shelter system into 600 hotel rooms so far, and is working on more. They're even exploring the option of purchasing hotels, to create long-term low-barrier housing – a concept I strongly support. One thing that is unfortunately delaying that expansion is a debate in the Minnesota Senate on whether or not to take federal CARES Act funding away from the County to give to cities, instead of funding cities with the unallocated CARES Act funds currently held by the state.
That's significant, because the Governor's executive order limits our ability to disperse encampments during the stay-at-home order. We try to take a compassionate approach to people camping and are usually able to find alternate housing options. Part of what sometimes motivates people to consider other shelter choices is a deadline, which they now know we are unable to set. Advocates tell us they believe many who are camping would choose a hotel bed over a tent if given the option, so the safest and best way to help everyone shelter safely is to expand hotel shelter access.
Please call 311 if you see a new encampment just in case it's not already on our radar (though it likely is), and please feel free to contact me and my office directly if you see camping activity causing issues that require a response.
The city has a special partnership with St. Stephens to provide effective, accountable outreach and direct service to people experiencing homelessness, and their hard work and dedication to their mission is critical to our response. I get questions from many of you about how you can contribute money or volunteer time to help others during the pandemic, and among many worthy efforts deserving of generosity, St. Stephens is surely high on the list. You can donate to St. Stephens at https://ststephensmpls.org/donate.
---
The 25th Art-A-Whirl is Online!
Art-A-Whirl is the largest open studio tour in the country, and is celebrating their 25th year! Due to COVID-19, we can't gather together across Northeast Minneapolis this May, but over 1,000 artists, galleries, bands, businesses, restaurants, and breweries are active and ready to connect with you through the Art-A-Whirl Online Experience.
The online Art-A-Whirl experience is LIVE HEREThe online Art-A-Whirl experience is LIVE HERE!
Find artists by map location, studio building, or medium.
Browse over 800 artist profiles and shops with shipping and curbside pick-up options.
View art demos, virtual studio tours, and musical performances.
Order takeout or delivery from NE restaurants and breweries.
(Virtual) Coffee With Your Council Member
I normally hold regular open community office hours at 5:00 p.m. on Wednesdays, at a rotating neighborhood coffee shop in Ward 3 for constituents to drop by, ask questions, and raise any issues you see in the community.
Right now, I am holding my community office hours remotely on Skype:
Wednesday, May 20, at 5:00 P.M.
Skype Link or by phone: 612-276-6670, 940707330#
Wednesday, May 27, at 5:00 P.M.
Skype Link or by phone: 612-276-6670, 940707330#
If you have questions or a topic to discuss, email Aurin.Chowdhury@minneapolismn.gov to RSVP.
---
Good Morning Ward 3 Postponed Indefinitely
Two months ago, at the onset of COVID-19, I had tentatively postponed our planned March Good Morning Ward 3 to next week on May 20.
However, large group gatherings continue to be strongly discouraged, and unfortunately, that will likely be the case for the foreseeable future.
It is with no small degree of sadness that as a result, I have to postpone Good Morning Ward 3 indefinitely. In the meantime, I will continue to host my weekly virtual coffee hours and join as many of you as I can in other virtual gathering spaces.
If you are part of a local community group that meets virtually, and you would like me to join you to talk about what's going on in our Ward and "at City Hall", please email Aurin.Chowdhury@minneapolismn.gov, so we can get it on my schedule!
---
Governor Walz Turning the Dial with New COVID-19 Executive Orders
---
Allows More Businesses to Re-Open at Limited Capacity
Gov. Tim Walz announced the next phase of the COVID-19 response in Minnesota. Citing progress made to prepare for the peak of infection, the governor announced a measured, cautious turning of the dial toward a new normal. With the stay home executive order set to expire May 18, the governor will replace it with an order continuing to encourage Minnesotans to stay close to home but allowing for gatherings of friends and family of 10 people or fewer.
Minnesotans are still asked to stay close to home and limit travel to what is essential.
All gatherings are limited to 10, and physical distancing with masks, hand-washing and other safety measures should be followed to protect each other.
No matter what, Minnesotans are asked not to gather in large groups.
The governor will also allow retail stores and other main street businesses to open if they have a social distancing plan and operate at 50%. Additional guidance, including a template plan and checklist for businesses, is available on DEED's website at mn.gov/deed/safework.
Acknowledging that there is no stopping the storm of COVID-19 from hitting Minnesota, the governor said that we have made great progress preparing for it.
Gov. Walz also signed executive orders strongly encouraging Minnesotans at greatest risk of serious illness to continue staying home, ensuring workers can raise concerns regarding the safety of their work environments without fear of discrimination or retaliation, and protecting workers from loss of income if they refuse to work under unsafe or unhealthy conditions.
Following the guidance of public health officials, the governor announced a preliminary set of health indicators that could trigger a decision to re-impose restrictions to slow the spread of the virus. These indicators will be refined over time as we learn more about the virus and the course of the pandemic in Minnesota.
They include the number of COVID-19 tests that can be conducted as well as the rate of increase in:
Number of new COVID-19 cases.
Percent of COVID-19 tests that are positive.
Percent of COVID-19 cases for which the source of infection is unknown.
Updates on the COVID-19 pandemic in Minnesota are available at mn.gov/covid19.
---
Minneapolis Parkways Will Remain Open to Pedestrians Through at Least End of June
Sections of eight parkways or park roads totaling 21 lane miles are closed to motor vehicles and open to pedestrians to allow more space for trail users to follow social distancing practices and limit the spread of COVID-19. Park Board staff estimates this will remain in place until at least the end of June.
Learn more about the parkway availability.
---
City Amending Budget Due to COVID-19
Financial stresses caused by the COVID-19 pandemic including a projected $100-$200 million revenue shortfall are forcing the City of Minneapolis to reassess our budget.
2020 Amended Budget Process
The mayor will present a recommended revised 2020 budget to the City Council on June 12. The City Council will hold a series of meetings in mid- and late June to hear from City staff about the impacts of the recommended revisions and make any modifications they see necessary. There will be two opportunities for the public to engage and share their voices in this process. Details are being finalized and will be released as soon as they are available.
Budget Steps Already Taken
The City has already frozen wages for all non-bargaining-unit employees and are working with labor partners to implement a wage freeze across the enterprise to help guard against deeper cuts later.
Bills up before the Legislature right now could affect possible State and federal funding that would allow Minneapolis to get a share of the federal coronavirus relief bill. As of now, the City has received none, which has implications across our budget.
---
Final Call for Public Comments on Draft Transportation Action Plan – Closes Friday, May 22
Public comment on the Public Works Department's draft Transportation Action Plan closes next Friday, May 22.
On social media, follow the City of Minneapolis on Facebook, Twitter, and Instagram and use the hashtag #gompls to share your feedback with us.
The Minneapolis Transportation Action Plan is a 10-year action plan to guide future planning, design, and implementation of transportation projects for all people in all the ways we move around the city. The plan will identify specific actions for the City and our partners to take to implement the transportation vision outlined in Minneapolis 2040.
If you have feedback or ideas about how you walk, bike, bus, drive, scooter, roll, ride, or otherwise get around your neighborhood, I strongly encourage you to comment on this plan in the next week!
---
Online "Open House" for University & 4th Street Improvements
Hennepin County, in participation with the City of Minneapolis, MnDOT, Metro Transit, and the U of M, is developing roadway improvements for University Avenue and Fourth Street between 35W and Oak Street.
One main goal of this project will be to improve bicycle and transit facilities on University Avenue and Fourth Street to help make the roadway safer for all users. This project will also upgrade intersections for the Americans with Disabilities Act (ADA), modernize the traffic signal systems and improve access to transit stops.
You can access the online open house here to explore the project, learn more, and provide your feedback.
---
New Renter Protections Take Effect on June 1
The City of Minneapolis passed new renter protection rules that go into effect soon. Starting June 1, there will be caps on security deposits and limits on what a rental property owner can use to deny rental applications.
Inclusive screening criteria will set limits on what information in a renter's criminal, rental and credit history can be used to deny a rental application. Landlords who don't use the inclusive screening criteria will have to specifically state why an application is denied and provide an opportunity for the applicant to add more context to their history.
Security deposits will be capped at one month's rent, or one-half month's rent if the landlord requires first and last month's rent to be paid in advance. If they require the first and last month's rent to be paid along with the security deposit, renters must have the option to pay the security deposit in installments over three months.
The ordinance goes into effect June 1 for owners with more than 15 rental units. The effective date for property owners with 15 rental units or fewer is Dec. 1. Enforcement will be through the City's housing maintenance code.
This follows previous renter protection efforts adopted recently, including relocation assistance for displaced renters and a requirement that owners of naturally occurring affordable housing rental property give the City 60 days' notice before selling their units.
To learn more, visit minneapolismn.gov/renterprotections.
Work Continues on Tenant Opportunity to Purchase Housing
Council Member Schroeder and I introduced a Tenant Opportunity to Purchase ordinance process last year, and staff work on that ordinance continues. City staff are receiving technical assistance in that work from LISC-Twin Cities (The Local Initiatives Support Corporation) and the Coalition for Non-Profit Housing and Economic Development (CNHED) in Washington, DC.
Along with Council Members Ellison and Gordon, who are also working with us on this project, we recently received a progress report from the consultants and City staff, who are studying options for a tenant opportunity, a City opportunity, and/or a non-profit opportunity to purchase rental housing when it goes up for sale.
If you have questions about this project and/or would like to be included in opportunities to learn more and help shape it, please contact David.Zaffrann@minneapolismn.gov.
---
Sign Up Online to Vote Early by Mail This Election Year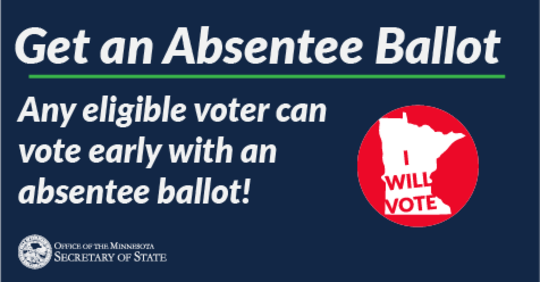 With health officials advising everyone to reduce contact to keep each other safe during the pandemic, the City of Minneapolis is recommending voting early by mail this election year.
Voters can sign up now to get ballots for the August primary and November general election mailed to them. Ballots will arrive approximately six weeks before those elections, along with postage-paid envelopes for return.
All Minnesota voters are eligible to vote early by mail. Ballot applications should be made no later than 10 days before an election so the ballots can arrive in the mail with enough time for voters to return them.
Although voting early by mail is recommended, voters will still be able to cast their ballots in person at the City's Early Vote Center, 980 E. Hennepin Ave., or at their polling places on the day of the election.
Watch this video about voting by mail, sign up for your absentee ballot here, and get more voting information at vote.minneapolismn.gov.
---
Check Out the Neighborhood Census Response Rate Map, Encourage People You Know to Complete the Census
Minnesota is currently number one in the nation in responding to the census. With a 69% response rate, we are 11% over the national average of 58.7%
Minneapolis is doing well also, landing at number six of large cities in the nation with populations of 300,000 or more with a response rate of 66.5%, which is close to surpassing our 2010 decennial rate of 72.8%.
However, there is still work to be done. There are several neighborhoods in Minneapolis with previously low response rates that have yet to gain real ground in their 2020 census completion. Too often communities that are underrepresented in the census are subsequently under-resourced when and where they need it the most.
View the Minneapolis neighborhood response rate map and encourage your friends, neighbors and community to complete the census!
Data from the census is used to provide not only services and programs that many of our communities rely on, but also critical medical equipment and first responders during times of crises, much like the current pandemic. Data from the previous census is currently being used to determine where to send ventilators based on population numbers. Our collective response to the census is crucial to our ability to respond successfully to the needs of community.
Take the census now: www.my2020census.gov.