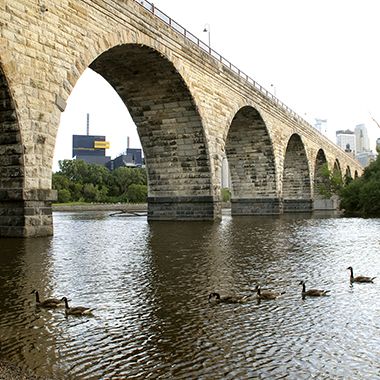 Choreographer(s):
Lori Mercil
She is a BFA trained dancer, choreographer, & instructor who has been part of the Twin Cites dance scene for the last 20 years, working with many local artists and groups, including Hauser Dance, Becky Heist, Link Vostok, Una Setia, Marciano Silva Dos Santos, MotionArt, Off-Leash Area, Young Dance, and Marylee Hardenbergh on many site-specific works in the area, including as project manager for Solstice River XIX/Global Water Dance 2015. Her own work has been shown at Dances at the Lake, Hauser Dance, Kinetic Kitchen, & Solstice River. Lori currently dances with Christopher Watson Dance Company, where her work was shown in last year's 25th Anniversary Show, and is one of 7 other choreographers presenting work in the upcoming "16 Feet: Assorted Dances" being presented at Intermedia Arts June 8-10th. Lori is thrilled to be part of Global Water Dances again this year!
Rae Eden:
Rae Eden Frank trained with the Minnesota Dance Theater before pursuing a career in social justice. Rae currently works in the environmental health field, and is in training to be a dance movement therapist. Rae offers community workshops using embodied movement as the medium for communication. Rae sees nature and dance as her healers and can be found dancing on the street corners or wandering in the forest. Rae is also a ritual artist and priestess of public rituals, including the fire dance performance at an annual Brighid Festival. In 2012, Rae was the recipient of two Irrigate Placemaking grants to develop "The Flowering Dance Project". When not dancing, Rae can be found spending time with her two daughters and grandson or picking up litter along the freeway. This is her fourth Global Water Dances.
History of Site and Related Water Issues:
Minnesota is home to more than 10,000 lakes and more than 90,000 miles of rivers and streams. Many of these waterways are threatened by pollution and agricultural practices. An estimated 40 percent of the state's lakes and streams are polluted making them unsafe to fish from or swim in. These factors led to negative impacts on the quality of life in Minnesota.
The Stone Arch Bridge is a former railroad bridge crossing the Mississippi River at Saint Anthony Falls in downtown Minneapolis, Minnesota. It is the second oldest bridge crossing the Mississippi and the only arched bridge made of stone on the entire length of the Mississippi River.
The word Mississippi comes from Messipi, the French rendering of the Anishinaabe (Ojibwe or Algonquin) name for the river, Misi-ziibi (Great River). St. Paul and Minneapolis rely on the Mississippi River as its source water supply.
Music:
Live drumming
The Performance:
16 to 20 dancers will perform in the center of the Stone Arch Bridge to live drumming.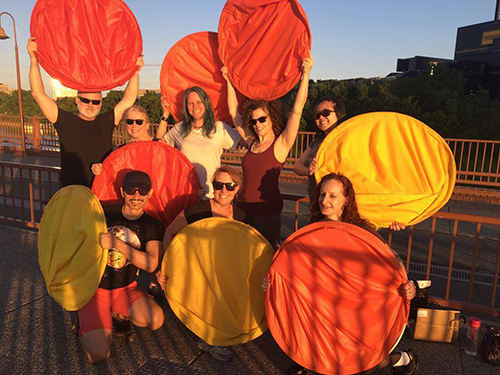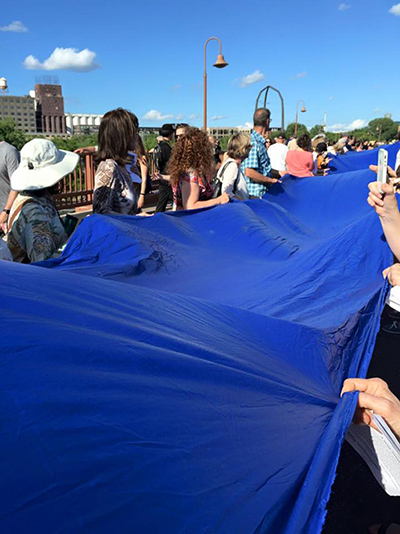 Environmental Impact:
Raising awareness about general water issues and local concerns, and giving audience members specific information about how they can help improve water quality in the area by providing access to information tables by local water organizations at the site on the day of the performance.
Directions to the Site of Performance:
Google directions by geographical coordinates
Email for more information:
How can I get involved?
Dance, drum, water organization informational tabling, audience participation.
Local Website: