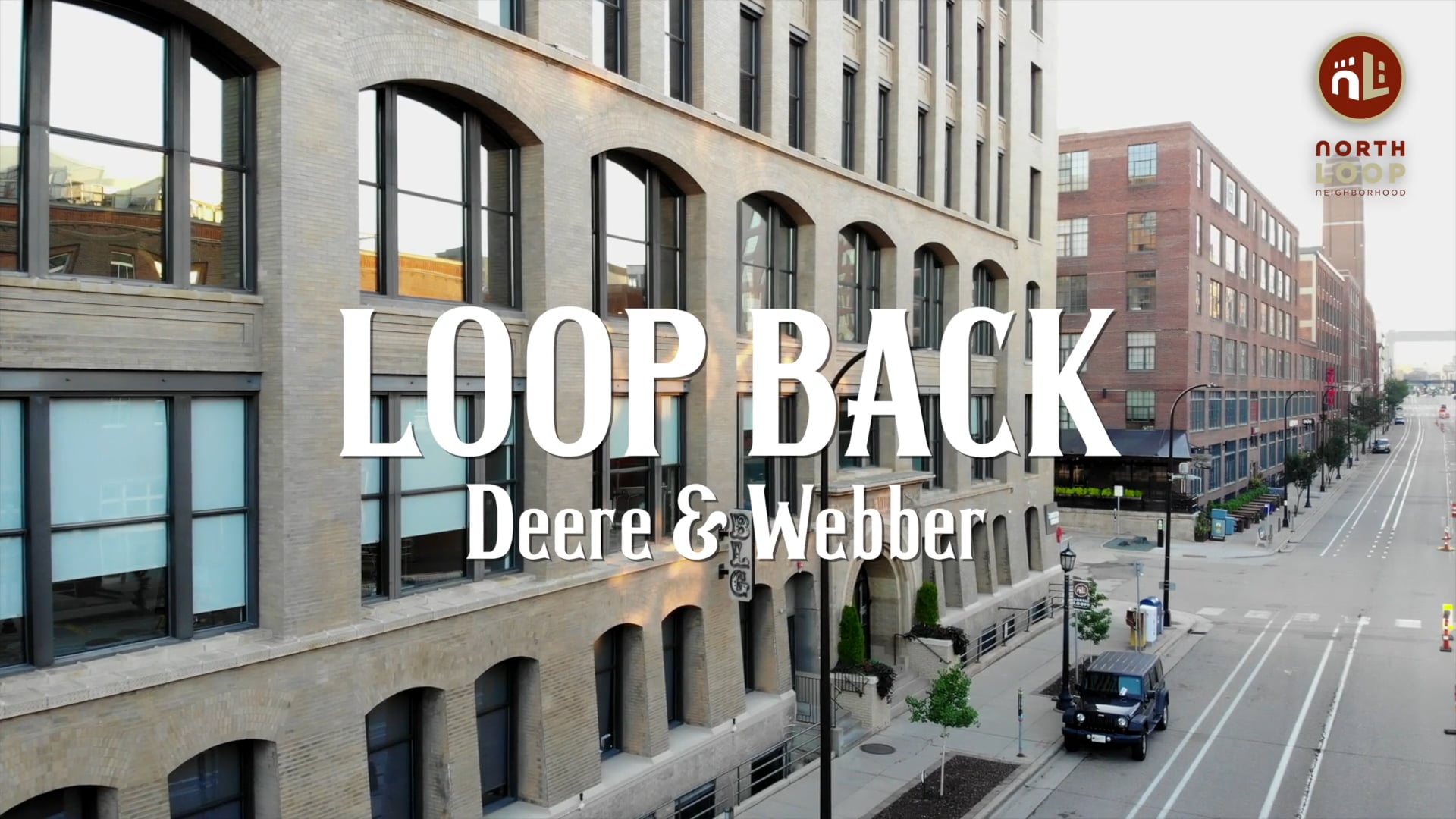 Loop Back: TractorWorks
The Deere and Webber building, with its iconic deer heads adorning the entrance, opened in 1902 as a huge farm machinery distribution center at 800 North Washington.
Buggies, wagons, sleds and plows were just what settlers needed at the time as they were moving north and west. John Deere himself had invented a plow that was revolutionary in 1837, a plow made of steel which was much better on the sticky soil of the Midwest prairies than the cast iron plows that farmers had been using back east.  
With a growing product line, John Deere's manufacturing was based in Moline, Illinois but as settlers spread out, the company had to as well. It built distribution centers in five cities—Kansas City, St. Louis, Council Bluffs/Omaha, Minneapolis and San Francisco. The one here in Minneapolis was built for $150,000. 
And while John Deere was owner and president, his grandson, Charles C. Webber ran the operations here for more than 50 years.
Almost from the start, the facility set records. A half mile long train, filled with buggies and wagons, arrived in December that year—the largest shipment this region had ever seen. Early in '04, an article referred to Deere & Webber as "the trainload house" because of the constant stream of shipments.
Today, you can still see signs of that activity in the building. The current owners, TractorWorks Holdings, have preserved as much as they can. Jessica LeGare, Senior Property Manager for City Center Real Estate Services, showed us where workers in the early 1900s would scribble on walls, penciling in calculations, their names, sometimes observations like "cold day."
The third floor, with 15-foot ceilings and wood flooring, has the look of someone important having worked there.
"There's an office in the corner that has special wood floor detail," said LeGare, "and then another unique characteristic in this space is green coated brick that is along the window line. It matches the green tones that we have found in the paint throughout the building, the original paint that's been uncovered."
"I feel like a lot of business happened in that office," she said, "and it'd be fun to know exactly what it was."
It was likely the office of Charles Webber, who also made his mark here by getting barge traffic back on the Upper Mississippi. When 1400 plows were shipped up from Moline by the tugboat named "Minneapolis" in 1917, it was the first cargo shipment through this city's port in 50 years.
John Deere had its first tractor the next year, in 1918, the Waterloo Boy—the first of many tractor models to be sold and shipped through the Deere and Webber facility.
Another grandson of John Deere was influential in the Minneapolis office. Charles Velie, secretary/treasurer had a luxury carriage-making business that evolved into an automaker. The high-end Velie automobiles could also be found in the in the North Loop showroom.
Charles Webber's legacy lives on in this city. He gave generously to charity, and Webber Park along with Webber Parkway in north Minneapolis, are among the lasting tributes to him.
It was front page news when he died in 1944, he was heralded as "a leader in civic and business life of Minneapolis for more than a half century."
The John Deere company went on to become the largest farm machinery company in the world.
By Mike Binkley, North Loop Neighborhood Association
Watch other North Loop history videos here.